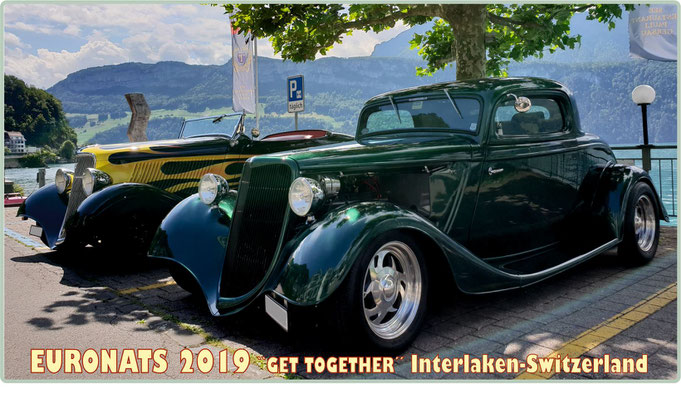 34er Ford 3 Window from Urs will also hang out with us on the Event.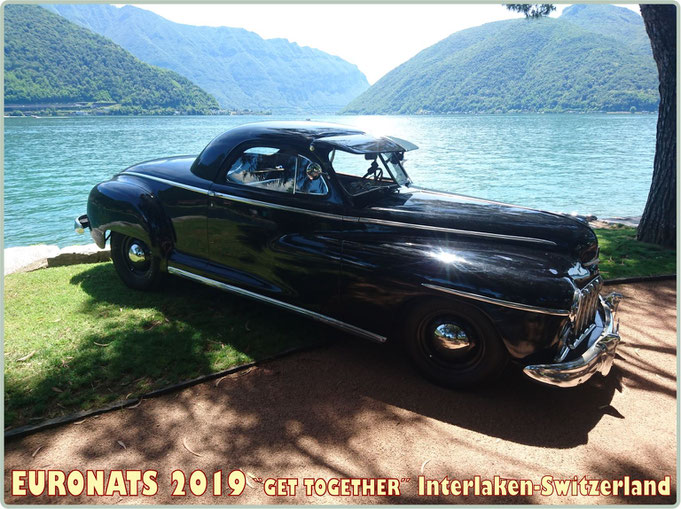 Markus will bring his 1946 Dodge Business Coupe to Interlaken.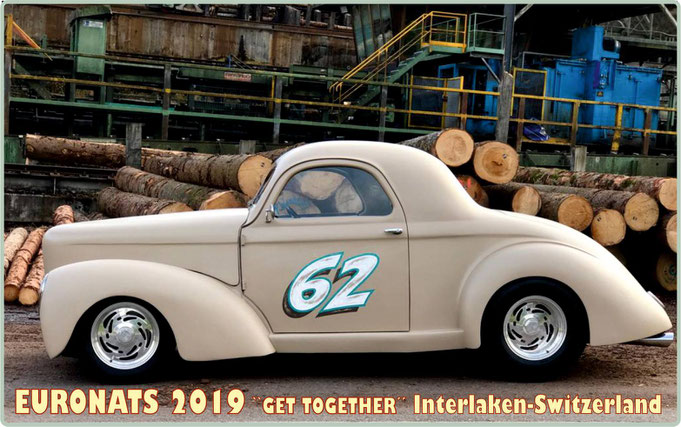 The '41 Willys Coupe owned by Markus was built in Switzerland on a '63 Corvette chassis. Powered by a SB350, it's going very well and can be admired on the roads frequently. The Willys belongs to Markus since more than 20 years.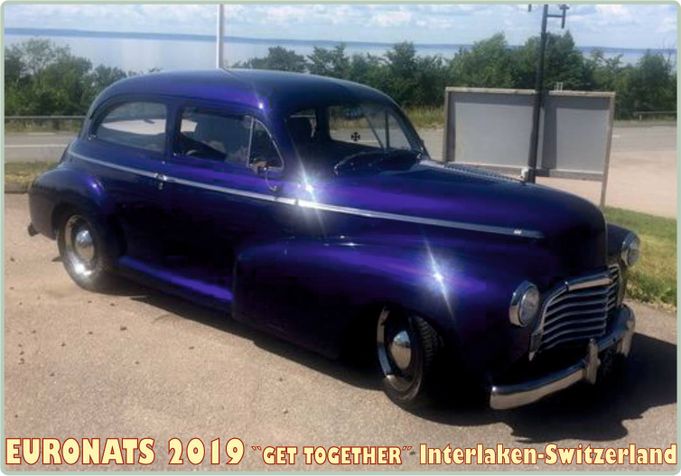 Grahams wonderful 1942 Chevrolet Fleetmaster from UK.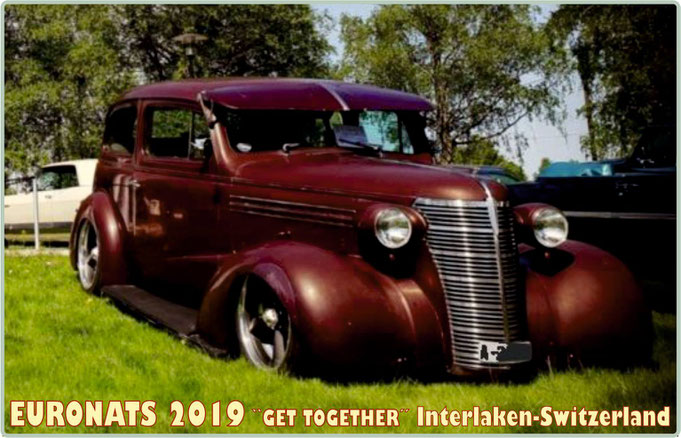 Rune from Norway will visit us at the Euronats with his '38 Chevy. It still has its original painting, which was applied since more than eighty years! Viewed from the technical side, this beauty is on the latest stand.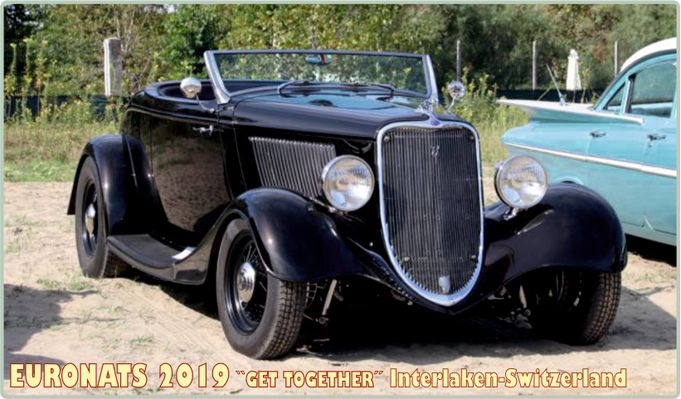 This '33 all steel Ford Roadster belongs to Michael and can be admired in Interlaken during the Euronats.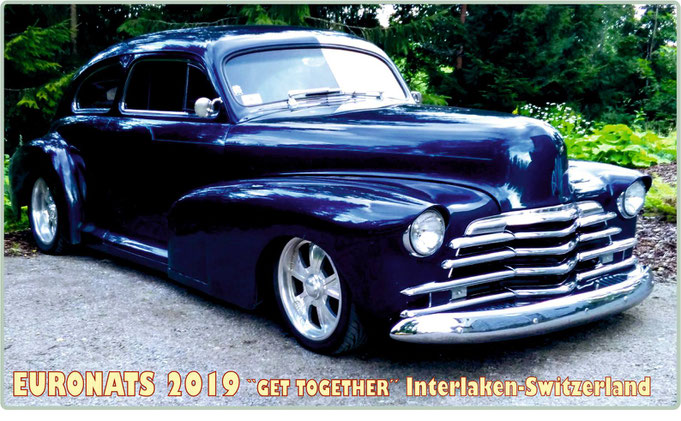 Kai will bring his stunning '48 Chevy Aerosedan from Finland to Switzerland. This Chevy is Kai's everyday runner - at least in summertime.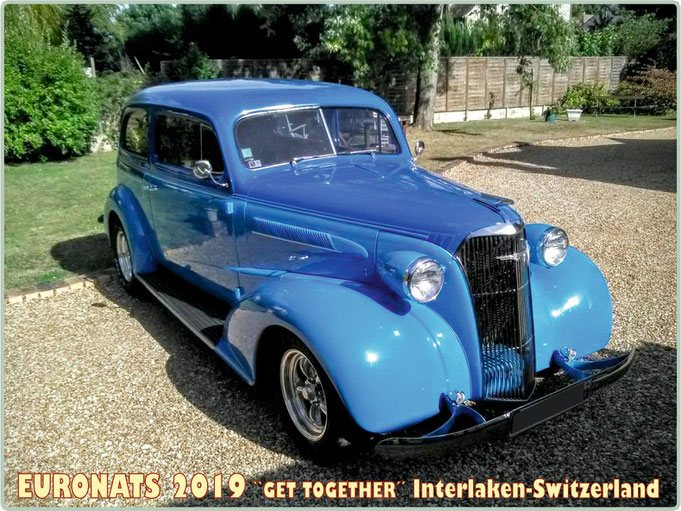 This derived from a '37 Chevrolet Master Deluxe Sedan Slantback with a 350 cid V8, TH700 R4W, Edelbrock 4bbl, power steering, a/c and much more will be coming from France.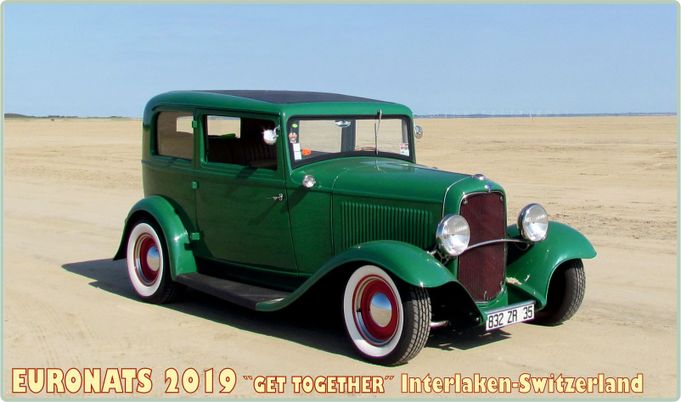 Nathalie and Jean-Luc's Rod is rolling for more than 100'000 km since a complete build-up in 2002. With the heart beat of a Chevy 327 cid and a TH400 it has already visited several Euronats in England, Germany, Belgium, Sweden, Norway, Spain, Denmark and in France of course. Now, the turn is to Switzerland this year - very welcome, "Lil'Tudor Frenchie"!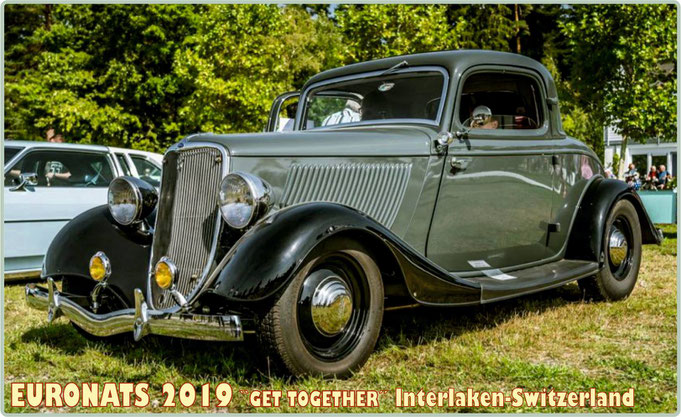 Kirsche's wonderful '33 steel Ford 3 Windows Coupe.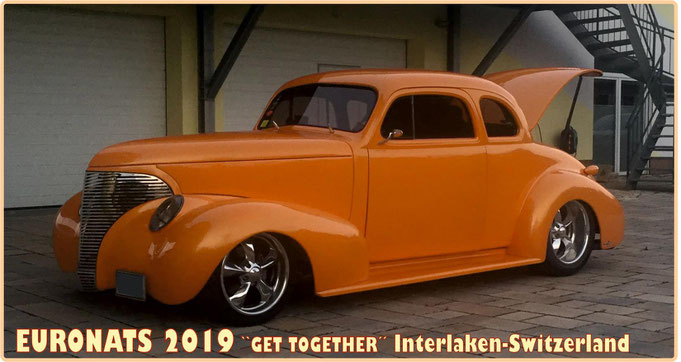 Elsie und Tommy, coming from the US will visit us at the Euronats with Armin's wonderful '39 Chevy, which's home is in Germany. Rolling with an LT1 on Jaguar suspension. What more to say...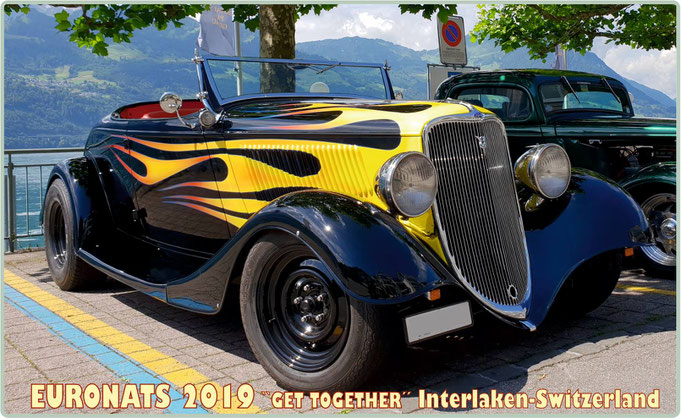 This beautiful '33 Ford Roadster from Andre will also be on the showground in Interlaken.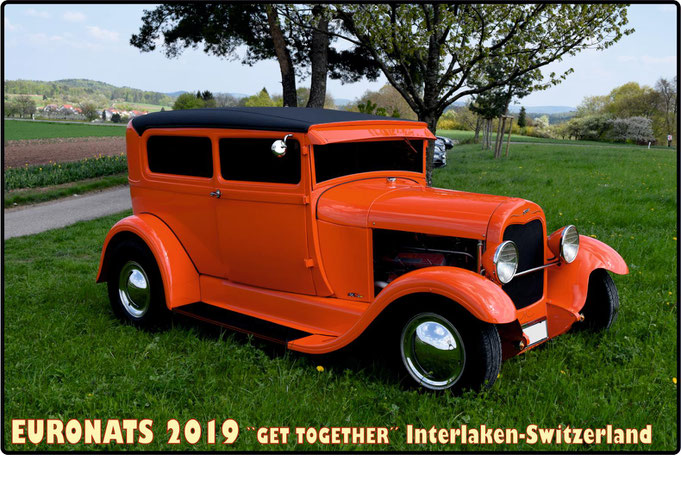 Martin's 1928 Ford Sedan certainly is not undermotorized with its 6.6 litre Oldsmobile machine. This rod is coming out of a full frame off restoration, which took 5 years of time. This Car is for sale.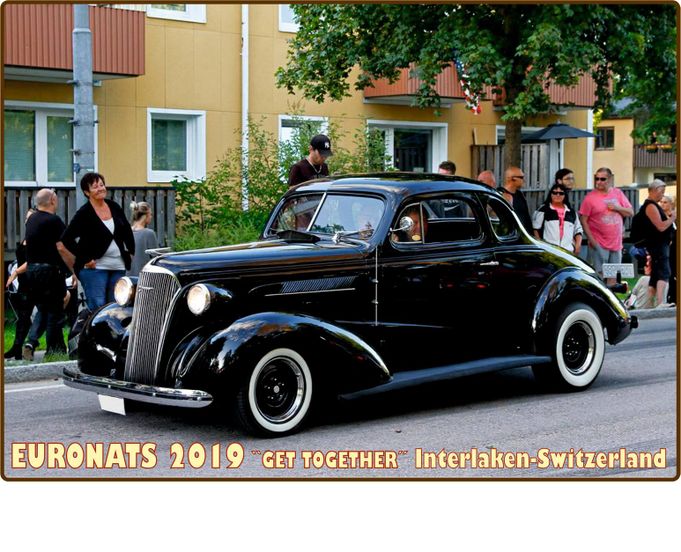 This marvellous '38 Chevy Coupe, owned by Kenneth from Sweden is equipped with a 327 Corvette engine and a Manual 4-speed tranny.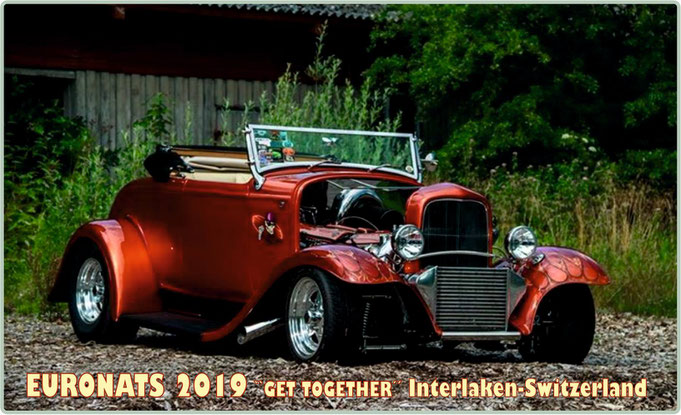 Svends Ford 1932 Roadster, built by himself in 1999 - 2001. Engine: 396cui supercharged LT1 Smallblock. He's at the moment working on an extreme Twin Turbo for the engine and he hopes to finish it before the meeting.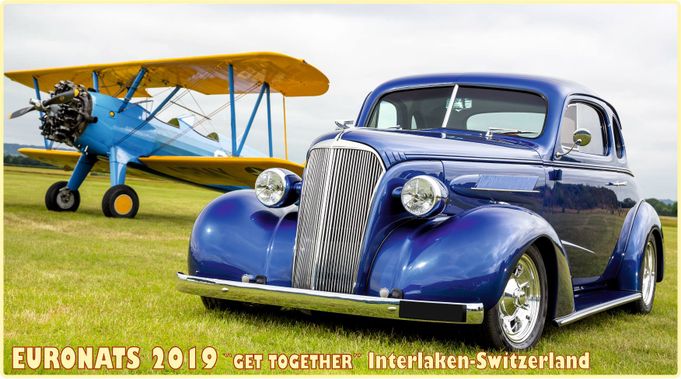 Dave will bring his stunning '38 Chevy Sport Coupe to Switzerland. The car has a lot of fine upgrades, but have a look at it yourself at the Euronats!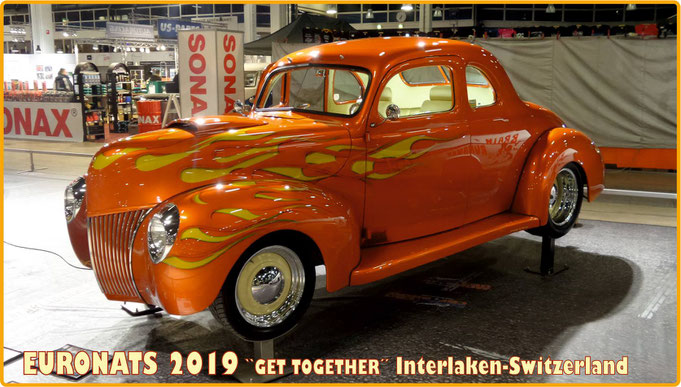 Gerhard's perfectly prepared '39 Ford Deluxe Coupe will be coming from Austria and roll to Switzerland on its own wheels.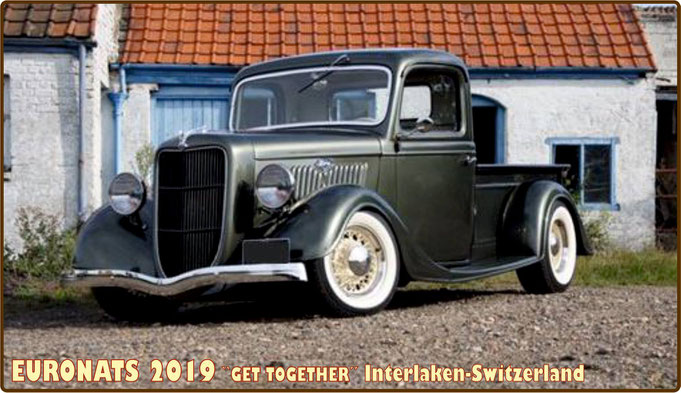 Mick was already present at the Euronats in Thun in 2008. Then with his '32 Ford Coupe. This time we will see him travelling from England with a wonderful '36 Ford Pick-up.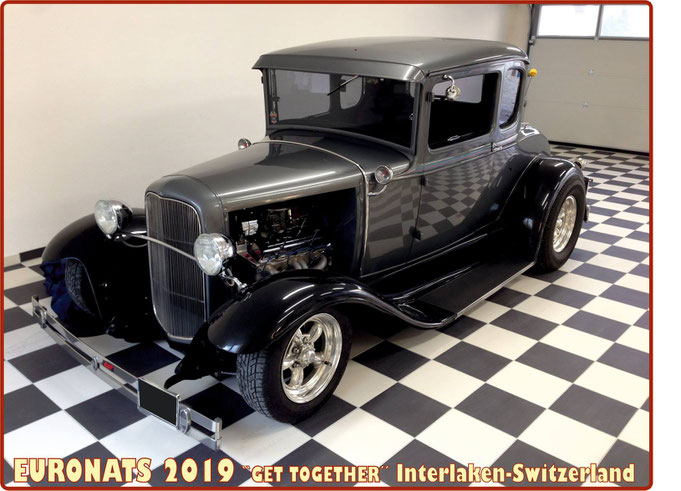 Welcome Peter, with his great 1931 all steel 5 window coupe. He has owned the Rod for more than 25 years.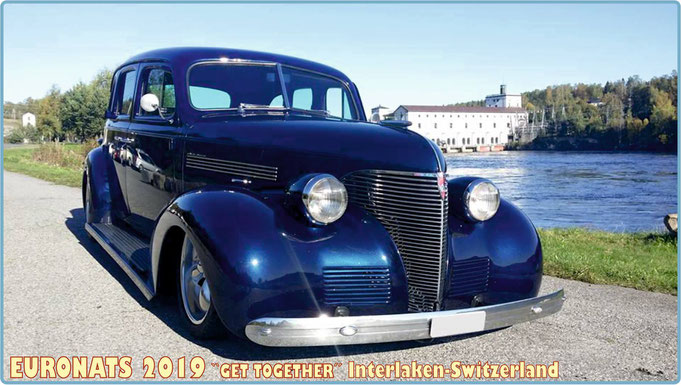 Hege and Tor bring their fantastic 39er Chevy Master to Interlaken. Powered by a 305 small block and a TH700R4 transmission, it will be a pleasant journey from Norway to Switzerland.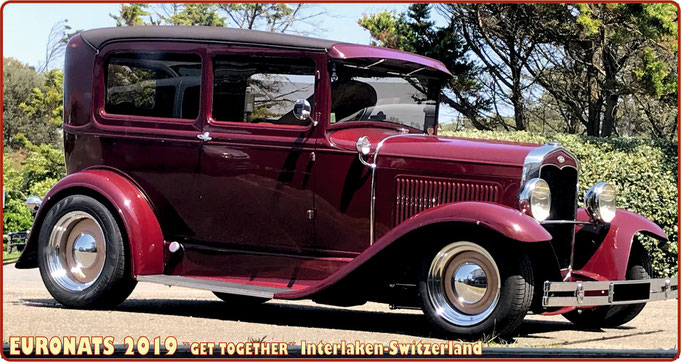 Nice to have Sandrine & Pierre`s all steel 1930 Ford Sedan at Euronats in Interlaken. Now in France, this Resto Rod was built in California in the late `80s